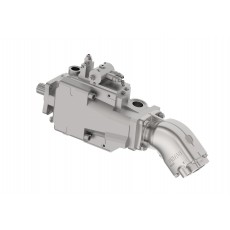 The Sunfab Variable Displacement Pump (SVH) with its rugged construction is designed for direct mounting at the auxiliary drive (P.T.O.) of commercial vehicles.

With a max. displacement of 130 cm3/rev. and a peak pressure of 450 bar it is suited for many applications. This is complemented by the high self priming rate and the low noise level.

The pump delivery flow is dependent on the present drive speed and geometric displacement. The flow is adjustable in a range between 0 and Qmax. Available in version with through shaft for enabling tandem mounting with for example a Single Flow SAP Pump.
Key features of the Sunfab Variable Displacement Pump (SVH) include:
LS Variable Axial Piston Unit for Truck Mount PTO Applications

High volume/pressure 130cc/rev displacement @ 450 bar max

Through drive to accept another DIN 5462 4 Bolt Pump

WE ARE A SUNFAB DISTRIBUTOR
To enquire about

Sunfab Variable Displacement Pumps (SVH)

, please contact VHS Hydraulic Components on: 0114 276 4430 / E: info@hydraulic-components.net or visit our website at
https://www.hydraulic-components.net/
VHS Hydraulic Components is a Sunfab UK distributor. VHS Hydraulic Components supplies Sunfab SAP Bent Axis Piston Pumps, Sunfab SCP Bent Axis Piston Pumps, Sunfab SLPD Twin Flow Axial Piston Pumps, Sunfab SVH Variable Displacement Axial Piston Pumps, Sunfab SCM Fixed Displacement Bent Axis Piston Motors and Sunfab Anti-cavitation Valves.