Dana Motion Technologies, which encompasses Brevini®, PIV Drives, and GWB, specializes in developing and providing motion systems for various machine functions and stationary industrial equipment. With the inclusion of Brevini and Hydr-App branded products, Dana Brevini Hydraulics has emerged as a prominent solutions provider in both the mobile off-highway and stationary industrial sectors.
Brevini excels in power transmission technology, encompassing the design and manufacture of high-efficiency products such as planetary and helical gear units, gear motors, winches, S-Series planetary gearboxes, and E-Series power transmissions.
Dana's MC series mini power packs are known for their versatility and cost-effectiveness.
The MC2 variant is designed for single-acting cylinder applications, while the MC4 version is capable of accommodating both single- and double-acting cylinders, making use of stackable blocks compatible with Cetop 3 standards.
The MS2 and MS4 models are variations of the MC2 and MC4, tailored for integration with VCDF valves (fixed compensated lowering control valves).
Key features of the Hydr-App Dana MC Series include:
Group 05 and 1 pumps, ranging from 0.25 to 9.8 cc/rev.

High-pressure capabilities, with maximum pressures reaching up to 290 bar.

Lowering functionality facilitated by 2-way, 2-position solenoid valves or progressive manual control.

DC electric motors ranging from 350 W to 3 kW, available in 12V, 24V, and 48V configurations.

AC electric motors, including size 100/112 with direct coupling or B14 mounting options.

Choice between plastic or metal tanks, with capacities of up to 25 litres.

The option to mount stackable blocks for Cetop 03 solenoid valves.

Possibility to install hand pumps for emergency situations and integrate fixed and adjustable compensated throttle valves, either in horizontal or vertical configurations.

A Closer Look At The MC4 Power Pack
MC4 MODULAR HYDRAULIC POWER PACKS
The MC4 modular power packs have been meticulously designed to offer practical and cost-effective solutions for various hydraulic applications. The modular concept allows us to utilize standardized components that are produced in large quantities. With top-notch component quality and easy mounting, these power packs offer exceptional flexibility and are well-equipped to meet a broad spectrum of power needs. Each component is entirely interchangeable, enabling separate stocking and utilization in various systems, resulting in both time and cost savings. The outcome is a compact, quiet assembly with outstanding performance, providing versatile application opportunities across various industrial sectors.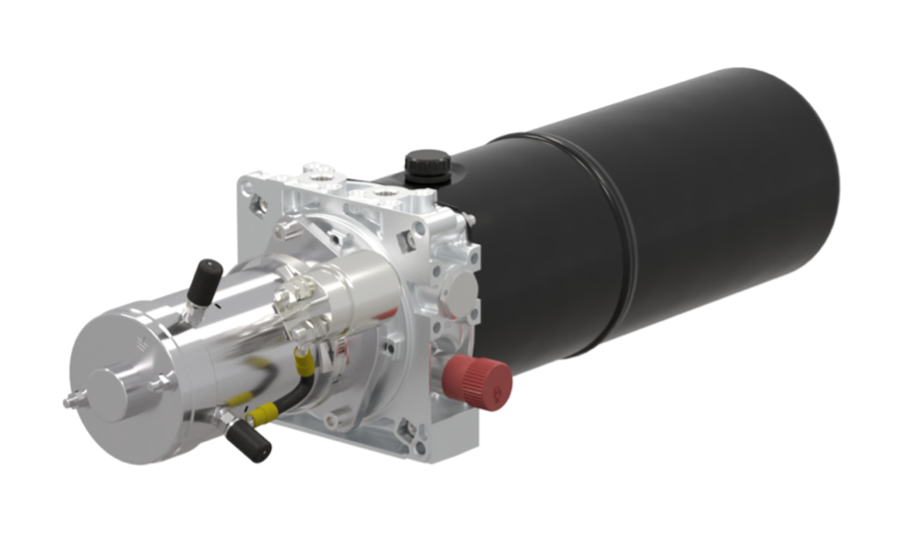 The MC4 modular hydraulic power pack range from Brevini. The modular concept allows the use of high quality standard hydraulic power pack components to be built in a variety of different specifications with ease, making them an extremely flexible and high performing solution ready to cover a wide range of hydraulic applications.
12 V & 24 V DC UP TO 3 KW • 110 V, 240 V & 415 V AC UP TO 5.5 KW

FLOWS UP TO 30 L/PM • MAX PRESSURES UP TO 280 BAR

AVAILABLE WITH A RANGE OF OPTIONS FOR LIFT AND LOWERING VALVES

Dana Brevini Motion Systems operates as a division of Dana Off-Highway Motion and Drive Technologies, stemming from Dana's acquisition of the Brevini Fluid Power business. Committed to customer satisfaction and product excellence, Dana Brevini prioritizes superior product quality, advanced technology, top-tier service, and competitive pricing.
VHS Hydraulic Components is a Dana Brevini UK distributor.
To enquire about all our Brevini products, please contact VHS Hydraulic Components on: 0114 276 4430 / E: info@hydraulic-components.net or visit our website at: https://www.hydraulic-components.net/